National and State level conference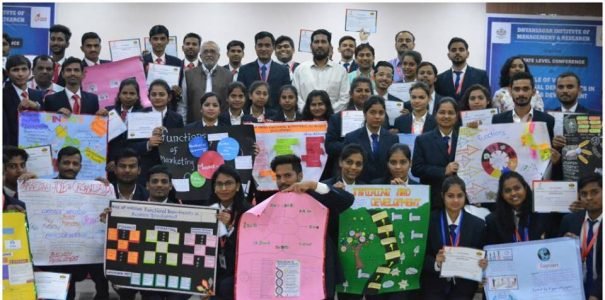 Day 2 of State Level Conference @DIMR, started with excitement and energy. Events of the day unfolded as speakers from industry spoke on several aspects and engaged audience responded back with equal enthusiasm and many more questions.
Mr. Abhishek Kulkarni, Employee Relations / Industrial Relations Professional at Sandvik Asia Pvt.Ltd. spoke at length about industrial relations and its several aspects. He enjoined and elaborated upon the relevance of HR and Industrial relations in an organization.
Mr.Sajid Pathan CEO and Co-founder of Business Analytics Consulting Group (BACG); an IT professional turned entrepreneur, with over 25 years of combined experience in Enterprise IT Operations, Business Intelligence, Data Analytics, IT Governance, Project Management, Consultancy, Business Information Systems, and Business Strategy & Development. He spoke on how information has become key today in this world filled with data and the relevance of Business Intelligence and its processes for organizations.
Ms.Kavita Kalikar, Director- Ognibene India Pvt Ltd ; with over 29+ years of global industrial experience with different sectors like Automobile, Pharma, Business development, Management systems etc. She elaborated on the importance of HR processes and the need of the hour for the new generation to think out of the box
Learning is never bound in classrooms it is in the fun activities and hands on practical that teaches our students nuances of management. #DIMR students participated in poster presentation on the role of various functional departments in business development. Students worked rigorously behind the concept of their posters and presented them to our judges. Congratulations to our dear winners and participants.
1st group

Nikita Jadhav, Prajakta, Kalyani Bonara and Asmita
2nd group

Kanchan Kumari, Shubham Kumar and Mrugasirsha Mohanty