In unison to the manifest resolve and proven credentials of DIMR in furtherance of the students, the institute had organised a seminar on 'Digital India'. The sole purpose of this seminar was to give cognizance of Digitization, its repercussions & our preparedness, to the young generation who ought to be the inextricable part of the 'Digital World'. The seminar commenced with an address of Director, Dr. SajidAlvi who very aptly mentioned about the pitfalls of getting hysteric while getting hooked to social media versus the rewards of constructive, rationale & legitimate use of it. The first speaker of the seminar Mr. Anil Reddy, Marketing Head of MNK Marathi Channel, took over the stage to beef up the audience on how desolate we would be if we fail to face the challenges posed by the digital technology and how obligatory it has become for all of us to riposte. Mr. Anil Reddy's enthralling speech was followed by Mr. SumedhGupte, Regional Head of Business Standard, who just swiftly carried everyone down the chronicles of the past three decades to highlight the metamorphosis from non-digital to digital world and significance to constitute ourselves in the changing era. Lastly Mr. ImtihasInamdar, Creative Director & Brand Consultant was the one who brought up to the forum what lies ahead in the future. He emphasized on the job opportunities & how we need to be farsighted to culminate ourselves in countenance. A series of unceasing queries popped up by the students in Q&A session was evident enough to sense how much they were intrigued! #DigitalIndiaSeminar #MBADIMR #ContemporaryLearning
The International Conference organized by DIMR on "Recent Developments & Innovation in Economics, Management, Commerce, Social Sciences, Humanities, Engineering & Environment" at Hotel Novotel, Pune on 22nd April 2018, brought together relevant field experts, professors, industry representatives, postdoctoral fellows, and research students from around the world, providing them with opportunity to report, present, share, and discuss questions, achievements, issues and challenges in the area of study.
The Chief Guest at the Inaugural function of the Conference were:
Hon. Dr. Priya Ranjan Trivedi Chancellor & Plenipotentiary, Indira Gandhi Technological & Medical Sciences University
Dr.Foueti Motuhifonua Chancellor, Commonwealth Vocational University,
Kingdom of Tonga
Dr. M A Patankar Director, A to Z Diagnostics, Mumbai
Dr. Priyadarshi Nayak Founder & CEO, Centre for Education Development
Dr. Aftab Anwar Shaikh Principal, Poona College of Arts Science & Commerce
Many experts from Industry, academia delivered the speeches on various aspects of Management, Technology & Engineering Sciences. The Technical Session was chaired by Dr. Pradip Manjrekar, Sr. University Professor & Ex. University Dean, D Y Patil University, Navi Mumbai. The papers are published in peer reviewed referred Journals bearing ISSN. The Conference offered a unique forum for all stakeholders to learn from each other's practice, exchange experience and establish personal contacts.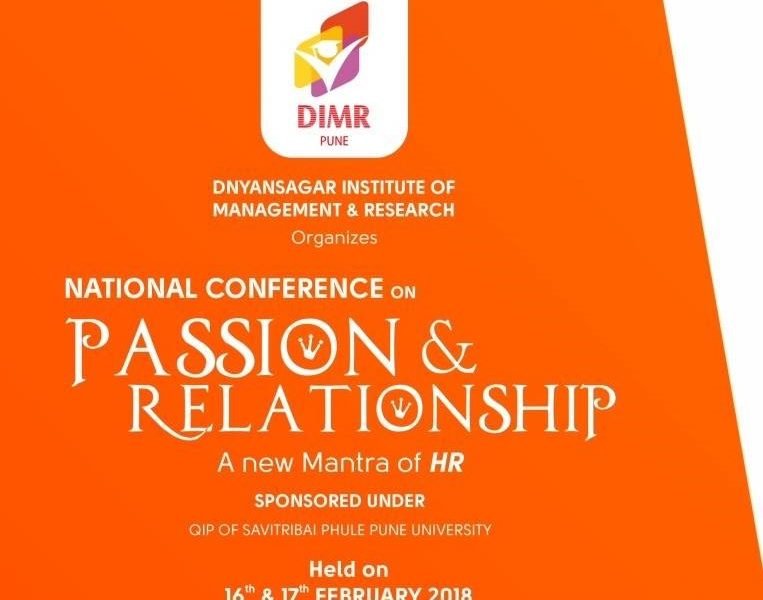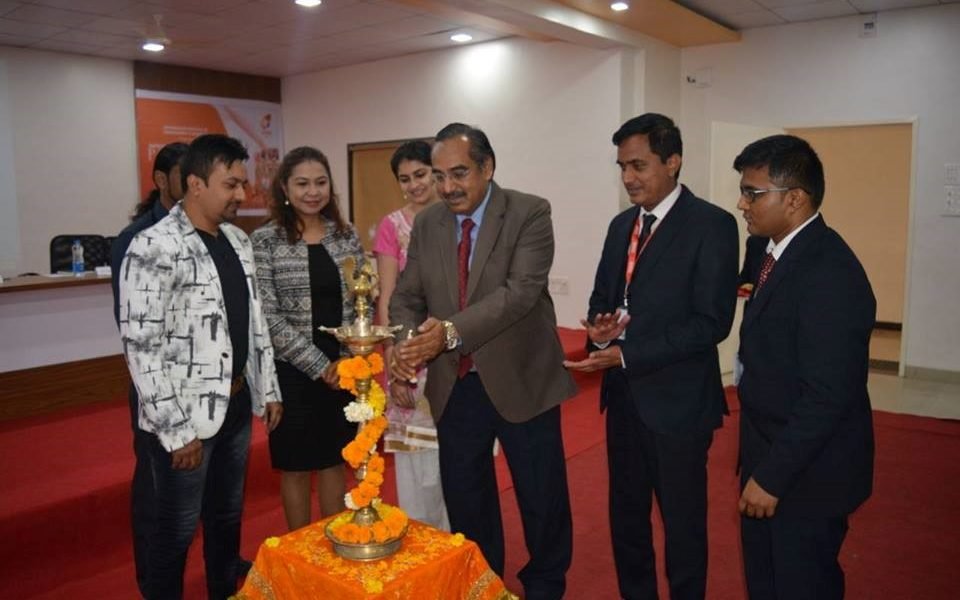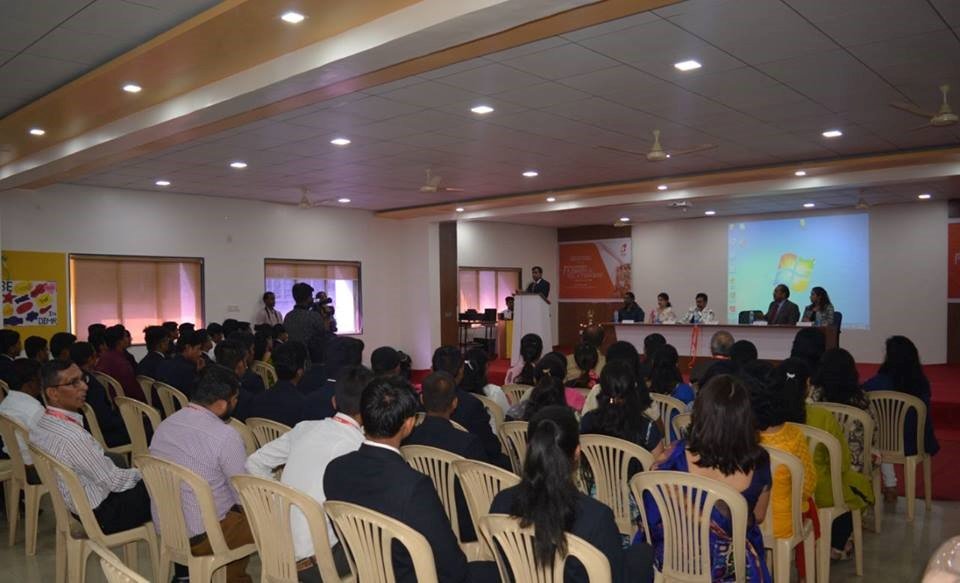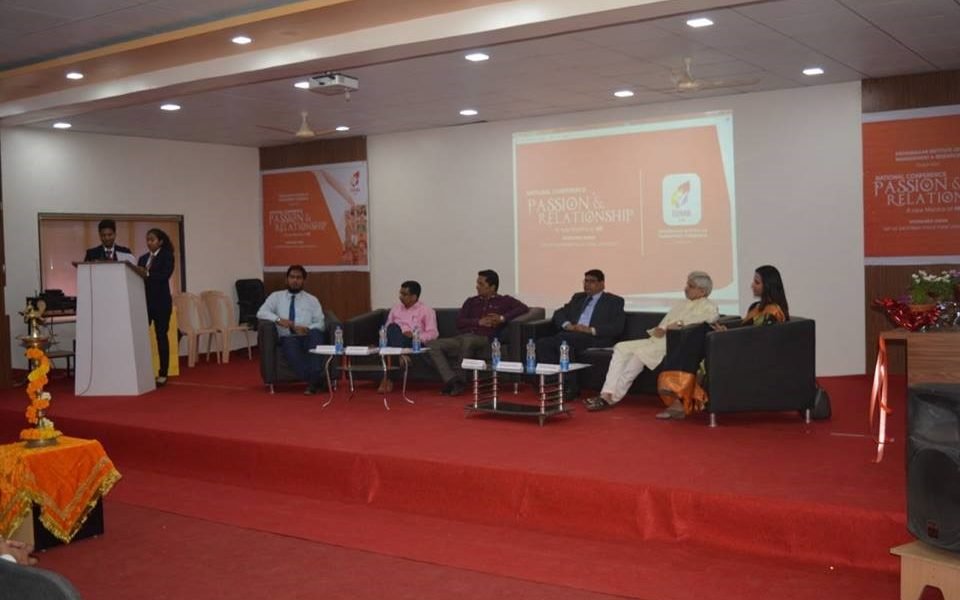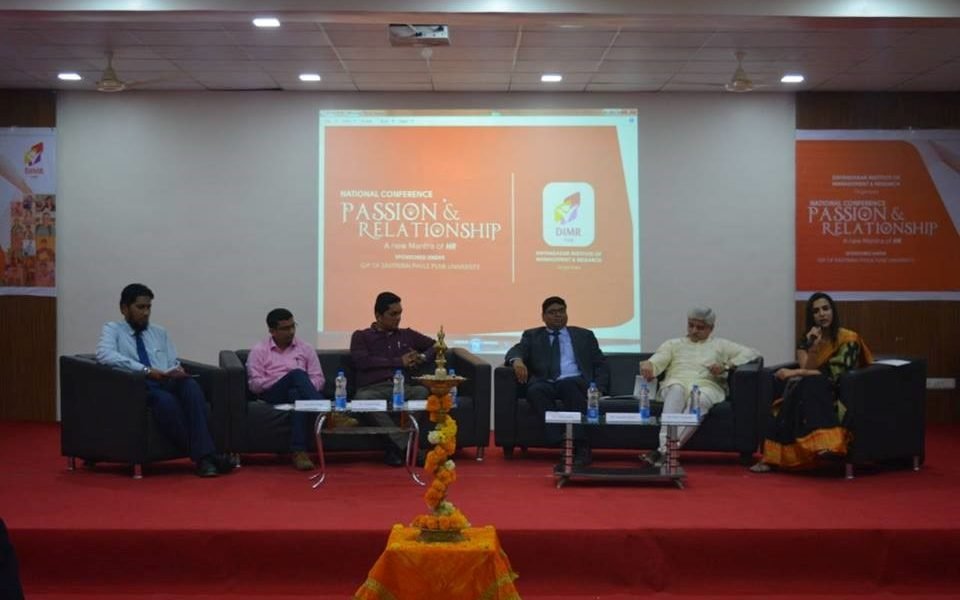 A two day National conference on "Passion and Relationship- A New HR Mantra" was organised by DIMR in association with SPPU under QIP on 16th and 17th of February 2018.
The Conference brought students, Research scholars, Academicians, Corporate expertise, comprehension, Queries and Insight on the common platform of learning.
The conference was inaugurated by Dr. Yogesh Upadhyay, Dy. HR, Automotive Research Association of India, Chief Guest for the event, along with the guests of honor Mr. Sanjay Sawant, Dance Director & Choreographer, Aliens Dance Academy, Dr. Apoorva Deshpande Homoeopath and Counsellor, Ms Jidappa Tharavit from Thailand, Dr. Sajid Alvi, Director DIMR.
The successful thought provoking address by all the eminent dignitaries from varied fraternity justified the theme of the conference. Panel discussion was chaired by Dr. Mohsin Shaikh, Head, Department of Management Studies, SKNCOE, and panelists were:
Mr. Amit Saxena, Founder, Alliance Solutions
Ms. Sonal Sonawani, Industrial Psychologist
Mr. Vinayak Chattre, Founder Director, Forbaco Systems & Computer Services Pvt. Ltd. & Hucon Square Services Pvt. Ltd
Mr. Yogesh Joshi, Assistant Editor at Hindustan Times
Following the success of first day of "National Conference -2018 on Passion & Relationship- A New HR Mantra" first session of second day was graced with the kind words from eminent guest speakers:
Mr. Sanjeev Doshi, Chief Manager HRD, Rashtriya Chemical Fertilizer
Mr. Chandrashekhar Shah, Regional Business Manager, Bayer HealthCare Diabetes Care
Mr. Ravi Prakash Padiyar, Cluster Head, HDFC AMC Ltd.
In the last session of the conference the research scholars and students demonstrated their passion my medium of research papers and Poster competition. It was a blessed gathering and a complete feast of knowledge…
International Seminar on Innovations In Teaching
Without change there is no innovation, creativity, or incentive for improvement. Those who initiate change will have a better opportunity to manage the change that is inevitable. Therefore, there should be continuous innovations in teaching. A flowing river is able to maintain its purity. In order to maintain the flow of learning, an International Seminar on Innovations in Teaching was organized by Higher Education And Research Society at Dnyansagar Institute of Management & Research on 28th and 29th December 2016. The seminar was like an ocean of thoughts from academic experts from all across the globe. The chief guest of the program was Dr Robert Masterson while Dr. Sajid Alvi were among other special guests.
NATIONAL SEMINAR ON PASSION & RELATIONSHIP- A NEW MANTRA OF HR
The intention behind education is to pass the values, rules and concepts to the next generation. We at DIMR encourage exploratory learning process, wherein teachers and students are co- travelers in search of 'Understanding of Knowledge. In our approach we do not want to label
anything as 'Final Answer', we believe in triggering the curiosity in the minds of students, rest will happen in its own accord.
The role of human resource management is to plan, develop, and administer policies and programmes designed to make expeditious use of an organisation's human resources. It is that part of management which is concerned with the people at work with passion to deliver, learn and grow with the organization and preserve their relationship within an enterprise.
Young Minds- A march towards Community Peace Building
Our first Prime Minister Pt. Jawahar Lal Nehru who had once said that, "Peace is not merely the absence of war but it is also a state of mind. Peace is not a relationship of nations, it is a condition of mind brought about by a serenity of soul", with this inspiration DIMR had organized a Seminar "Young Minds – A march towards Community Peace Building". On 25th August,.
Mrs. Nilema Pawar Dy. SP of Crime Branch presided over the Seminar while Dr. Asghar Ali Engineer was the Guestof Honour. The Seminar was inaugurated by lighting of lamp by the dignitaries.
Mrs. Nilema Pawar Dy. SP of Crime Branch frazzled on how students can promote national integration the least by developing a good personality and maintaining good behaviour with others. She cited a few live cases which helped the students to understand their role in Community Peace Building.
Dr. Asghar Ali Engineer noted writer cum activist, elaborated the topic with examples from cultural practices in India.He highlighted the ill-effects of Violence. He said – violence victimizes innocent people. He emphasized on non-violence that has the power to sort out the problem, albeit it takes a bit more time.He stressed the need for creating awareness among youth of communal harmony.
The post – lunch session thus ended with some interaction with the participants.
---
A Seminar on Stock Market was organised on 29th September headed by Mr. Mukesh Kuwad, Chartered Accountant & Centre Director of BSE.
He briefed us on Capital market & its operations. He also explained the role of Stock Exchange, Clearing house, underwriters etc. He gave an idea about how trading is done, meaning of Demat account, NSDL, CSDL, Depository, future, option. He also acquainted us with the latest development in the Stock market.